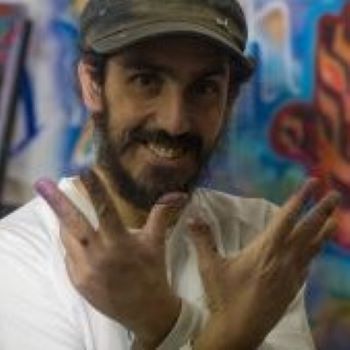 Dan Groover
Contact us to see full catalog
Dan Groover spent his childhood in Paris, France. Mr Groover currently works in Jerusalem, Israel.
His artistic career started in the eighties with the apparition of the urban French Hip-hop culture and found its unique expression through graffiti art. As it turned out, wall painting was a way to express his inspiration and creativity.
Among his numerous accomplishments, one was for the stage design of James Brown Caribbean tour. His works have been on display in various exhibitions in the West Indies, US, France.

In 1988, Dan Groover moved his residence to the French Indies where the change of scenery and the slower pace of life encouraged his painting to transfer from walls to canvases. Mr Groover continued his art training in the Art School of Martinique.
However, in 1995, his move to Jerusalem sparked a new transition in his life and artistic approach. Studying the Thora in depth has nourished his artistic creativity.
Jazz and Hip Hop music, famous modern painters, dancers, American cultural symbols and the city of New-York are among his favorite subjects to paint. As an Israeli artist now, Groover's work continues to evolve in his home in Israel and both in the realm of his outdoor graffiti as well as his pop art paintings.