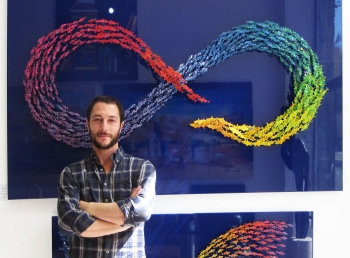 Contact us to see full catalog
Joel Amit was born in Jerusalem in 1982. He started painting, designing and sculpting from a young age. His passion for art eventually took him to study architecture at the famous Bezalel Academy of Arts and Design in Jerusalem where he graduated with honors. Joel then moved to the Negev desert where he lived for five years planning and building student and artist villages.

During this period in southern Israel, he experienced working with a variety of building materials. He was designing new building units utilizing concrete, wood, tubes, cardboard and paper. His interest was how to use small scraps of unclaimed material as construction materials for large-scale structures.

Joel's search for small "pixels", which could construct a larger form, helped him to start creating more art: this time working with metal.

Joel established his studio in Jerusalem and is currently creating and presenting a series of works he terms "pixel-art". This series draws its inspiration from nature as well as from the computerized world and the doors it opens for artistic creation. Joel finds the process of forming steel – a heavy and cold material – into butterflies, fish, birds and feathers, to be a liberating one. He expresses the values of life, love and humor into his work, always in search for an added dimension – a hidden layer and a challenge to the eye.
Please contact us to learn more about Joel's work or to purchase one of his artworks.