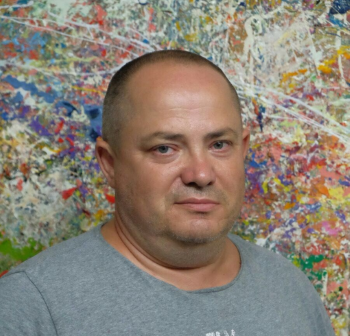 Gerber Alek
Contact us to see full catalog
Alek Gerber is Born in Ukraine in 1966 and immigrated in Israel in 1991. Alek went to the "Art institute of Krivoy Rog" where he graduated with special honor and got a diploma in Arts painting, sculpture and history in 1990. He always was a devoted artist even as a child.

Gerber paints in acrylic with both a brush and a palette knife, building up the surfaces of the works to a thick texture known as "Impasto." Although his subjects are varied and taken from locales all over the world, they are united with a sense of peace, natural beauty and tranquility. Gerber motivation comes from his passion to capture the essence of the places he visits and lives. his work can be said to be influenced by the Naive and fauvism movement . Gerber uses bold color choices and simplified design. Gerber aim is to express emotion through color choices.

Alek enjoys capturing the moment as the scenes unfolds. "Capturing Beautiful scenery, nature and flowers always gives me new thoughts and ideas for a new painting. I just stand there, quickly drawing a small sketch and then run to the studio and try to recreate it in colors and emotions".

Gerber lives in Israel and his work can be found in many private collections in Israel, Europe and the United States, and is exhibited in galleries abroad.